Founded in 2000, Doctors-on-Tour was created to assist health care professionals in marrying both their vacation and educational requirements.
Please note, our company has no affiliation with an organization calling themselves "Doctors On Tour Frontline Canada" (formed in 2021 in and based in Western Canada) and we do not endorse their views regarding non-vaccination against COVID-19.
Combining our meeting management and group travel expertise with the specialized knowledge of the doctors that we partner with in these ventures, we offer targeted educational programs in a relaxed, informal environment. We pride ourselves in offering unique, quality programs (with inclusions and activities for both physicians and their partners that differentiate us from other travel providers both in the medical field and outside), to such diverse and intriguing areas as Africa (Kenya/Tanzania, Morocco, South Africa), Asia (Bali, Bhutan, India, Japan, Malaysia/Singapore, South East Asia, Sri Lanka), Europe (Central Europe, Iceland, Spain), South America (Argentina, Brazil, Chile, Ecuador, Peru), and New Zealand. We explore these fascinating destinations and cultures through expert and qualified local guides in a convivial group of your peers highlighting the cultural, ecological, and even sometimes gastronomical, aspects of the region.
From an educational perspective, our programs include interesting and informative presentations on current issues from both local and Canadian experts, and interactive discussions, together with tours of local medical facilities to show you aspects of the local health care and healing methods in the region. By virtue of several of the destination types that we offer this may often include complimentary and alternative medicine which is becoming increasingly relevant in Western medicine. And we're constantly on the look out for new destination experiences…
But, of course, it's not all work and we make sure you have plenty of time to take in the sites around you and immerse yourself in the local culture. We arrange special excursions, private cocktail parties under the stars, and gourmet dinners. And for the non-physicians we make sure that you are fully occupied with interesting local activities when your partners are involved in the educational program.
For more information on our current and upcoming destinations please see our Upcoming Programs page where you find detailed information (including downloadable detailed brochures, packed full with detailed itinerary information and useful web links, and registration forms) on all of our our upcoming professional advancement escapes.
Alternatively, if you are a member of a group of physicians who are already part of an association or club and would like to travel in a private, closed group and have your own ideas about where you'd like to go and what you'd like to focus your meeting on, then please see our private groups page. You can also contact us and we'd be pleased to plan all the arrangements for you.
So for your next educational escape, why not join the many physicians and their partners who have enjoyed our programs over the last two decades, on-tour.....
The company is a licensed travel organization under the Travel Industry Council of Ontario (TICO) thereby affording complete protection of all monies paid prior to departure (TICO registration no. 50009110).

Featuring Doctors-on-Tour...
The Doctor's Review, January 2014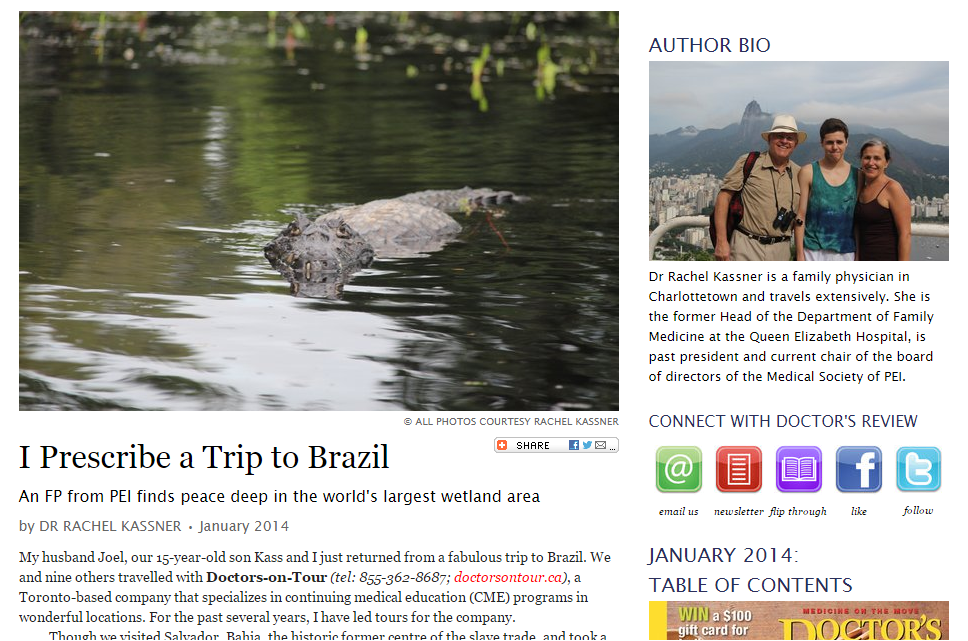 The Doctor's Review, November 2010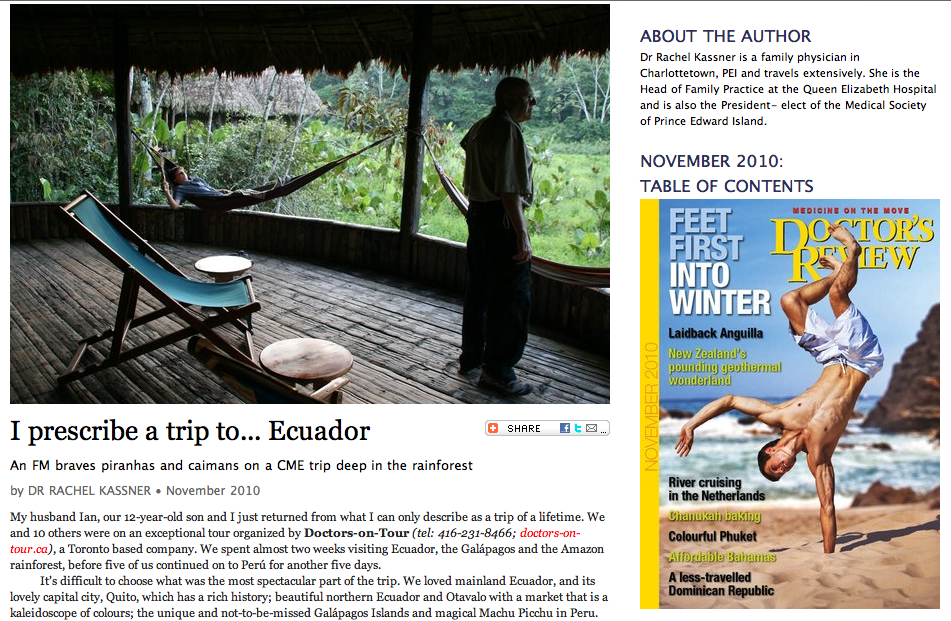 The Medical Post, January 2010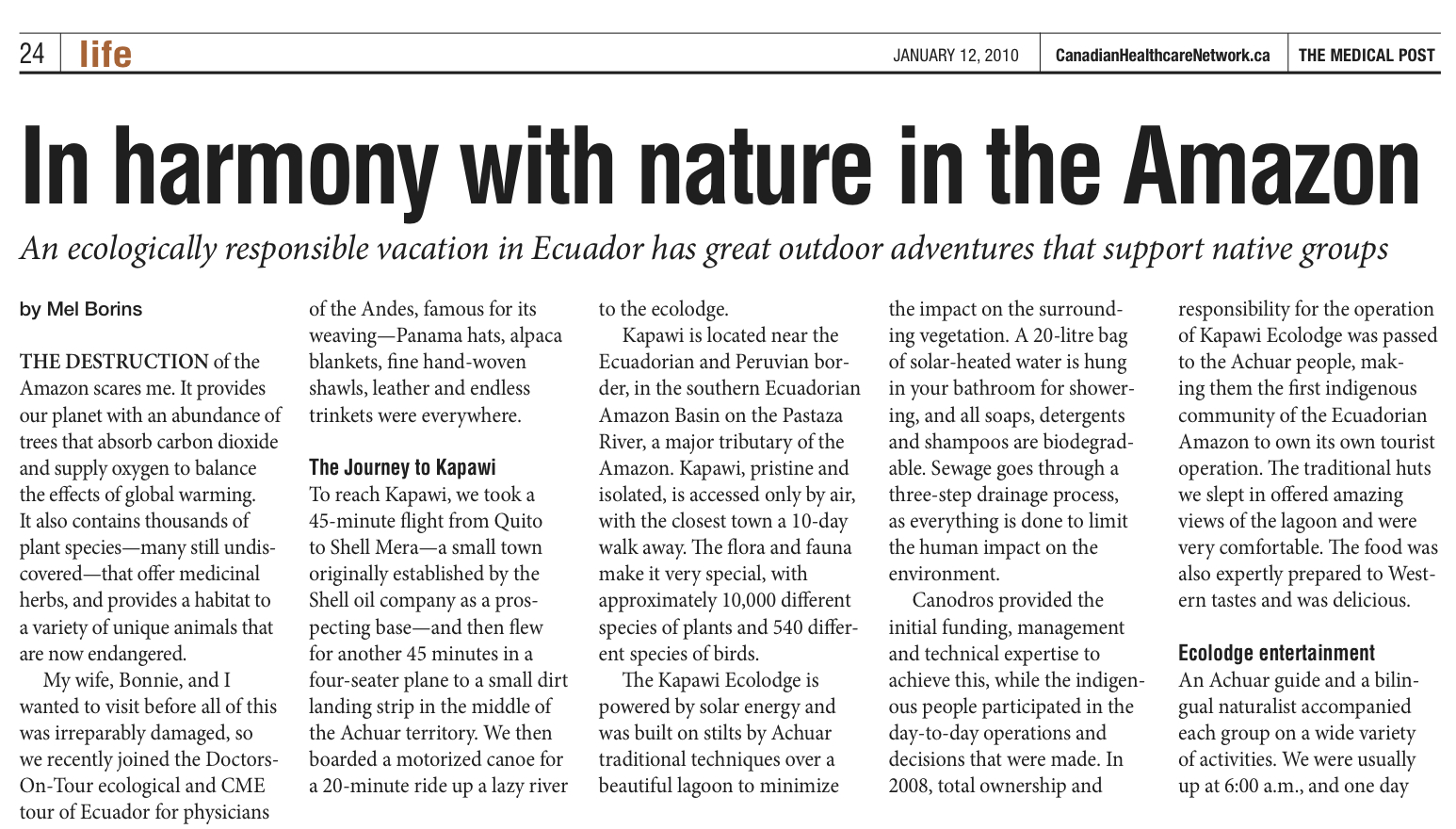 The Medical Post, November 2009
And look for our ad in The Medical Post each week!
Doctors-on-Tour. Copyright ®2022. All rights reserved. The programs & itineraries as stated in this website are unique & prepared exclusively for Doctors-on-Tour.