CME & Cultural Tour of
Myanmar & Bhutan
February 24 - March 12, 2017
Group Medical Director:
Dr. Peter Bloch, Oakville, Ontario
NOW IN DESTINATION
(Next program date - February 2018)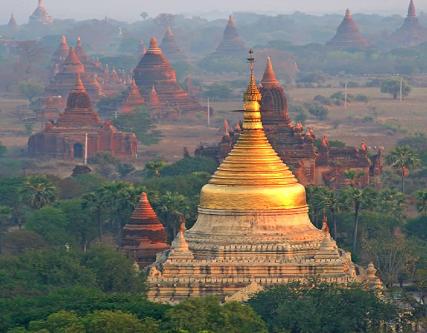 I have been fortunate to enjoy four trips with doctors-on-tour since 2009 - to Ecuador, Vietnam/Cambodia/Laos, India and Bali. All these tours were wonderful. Well-organized, excellent accommodations, top notch guides, remarkable CME experiences that broaden one's outlook on medicine and really great leaders of the tours. You should seriously consider taking one of these exotic trips. Beats lying on a beach!
-- Dr. Linda Rapson, Toronto
It was an amazing trip thru Vietnam, Cambodia & Laos. It exceeded all our expectations. Our group leaders were gracious hosts. Their thirst for adventure and generosity of spirit added so much to our trip. The group we traveled with were a great bunch and we hope to cross paths in the future. The CMEs were informative and I enjoyed seeing the varied medical sites in each country.
-- Dr. Tom Stark, Timaru, New Zealand - Vietnam, Cambodia & Laos, 2014
(for more from our customers click here!)
Two of the hidden pearls of Asia...
...One of the ultimate cultural journeys - two weeks in two of the world's most fascinating destinations, Myanmar and Bhutan.
In Myanmar (also known as Burma), visit Yangon (formerly Rangoon), with its crumbling colonial mansions and ancient stupas; the vast plains of Bagan dotted with more than 2000 ancient temples and one of Asia's most iconic sights: Mandalay, the last royal capital of Burma with its adjacent former ancient capitals of Amarapura and Ava; and Inle Lake with its whitewashed stupas and the local Intha people with their unique floating gardens, colourful markets and the famous leg-rowing fishermen.
Then continue on to mystical Kingdom of Bhutan, sandwiched in the Himalayas between China, Tibet and India. Our tour will take you to Thimphu, the capital of Bhutan with its architecturally interesting monasteries and important Buddhist highlights and interspersed with bustling markets and museums specializing in textiles, folk heritage, and traditional Bhutanese arts and crafts. Then, drive through the mountains to Punakha, the ancient winter capital located in a sub-tropical valley where rhododendron and magnolia bloom and orange and banana trees flourish. Conclude your stay in this captivating hidden kingdom in Paro, a resort town nestled among the Himalayas and the site of the 15C Paro Dzong Fortress, National Museum and the perfect base to access Tiger's Nest, a breathtaking monastery clinging to a cliff that is one of the most important icons of Bhutan.
Tour Highlights
In Myanmar -
Visit the jaw-dropping, gilded Shwedagon Pagoda in Yangon - perhaps the grandest Buddhist monument in the world
Marvel at the 2000+ temples on the breathtaking plains of Bagan
See the sunset over the Ayeyarwaddy River
Tour fabled Mandalay and ancient former capitals of Ava and Amarapura
See the unique leg-rowing fishermen and floating gardens of Inle Lake
In Bhutan -
Experience Bhutan's thriving Buddhist culture on visits to magnificent dzongs, or fortress-monasteries, museums and local homes
Travel the Dochu-La Pass and see Himalayan peaks
Hike to the cliff perched Taktshang Monastery (Tiger's Nest)
Watch snow lions dance and monks pacify demons during one of the country's colourful tsechu (festivals)
CME Program
(15+ CME hours on Health & Healing and Alternative Medicine. Certificate of Attendance provided)
Academic Conference at Inle Lake, Myanmar with lectures by Canadian medical experts & interactive discussions on current medical issues
Public hospital in Mandalay to meet with physicians and learn about the local health care system in the Myanmar
Meet with a Traditional healer of the Intha people (Inle Lake)
Sayagyi U Nyan clinic (Yangon) to learn about Traditional Healing in Myanmar
Public hospital in Thimphu to meet with physicians and learn about the local health care system in Bhutan
National Institute of Traditional Medicine (Thimphu)
Presentation on the therapeutic healing benefits of Bhutanese traditional Hot Stone Baths (Paro)
Pricing, Inclusions & Exclusions
Cdn $8,995 / person (double occupancy)
Academic program reg. fee $600 / registrant
Transportation/hotel taxes & fees $680 / person
Single supplement - add $1800
Please note : All our pricing is in CANADIAN $ (competing programs are often quoted in US$ resulting in a supplement of over 30% when converted into Cdn$ (based on Cdn$:US$ exchange rates at August 2016)
Price includes:
Round trip international flights from Toronto to Yangon, Myanmar, and from Bangkok, Thailand to Toronto on Cathay Pacific
All internal flights in Myanmar and to and from Bhutan as detailed in the itinerary
Modern, air conditioned coach transportation (including bottled water)
All meet and greet services and arrival and departure transfers
First class hotel accommodation
14 breakfasts, 12 lunches, 7 dinners
Comprehensive daily itineraries including escorted tours of local cultural sites and museums, attractions and shows
All admission fees (except those specifically noted in the detailed brochure
Bhutan Tourism Development Fund contribution
Academic program including tours of various local medical facilities (Academic Program Certificate provided) with separate programs for spouses
Fully escorted program including services of local English speaking cultural experts
Price excludes:
Beverages (both soft drinks and alcoholic beverages)
Travel insurance (please note, travel insurance (including medical and trip interruption coverage) is highly recommended for this tour. Coverage is available through Doctors-on-Tour - please check for further details on page 27 of our detailed brochure
All items of a personal nature such as telephone / internet usage, laundry services, etc.
Useful Links and Files (Click below to view)
Myanmar & Bhutan CME - Feb 2017 - Detailed Brochure
To register for this program please complete our online registration form at the secure page below.
Myanmar & Bhutan CME - Feb 2017 - Registration Form
Although we suggest using our online registration form above, if you wish to complete our pdf form instead, please download, print and complete the registration form below from the link below. This form should then be returned by mail, fax or e-mail (scan) to the contact co-ordinates on the form.
Myanmar & Bhutan CME - Feb 2017 - Registration Form
Our recommended Manulife Travel Insurance is available when completing the registration form above. However, for Canadian clients residing outside of Ontario, you should click on the Manulife Insurance button below to take out travel insurance.

Doctors-on-Tour. Copyright ®2016. All rights reserved. The program & itineraries as states in this website are unique and prepared exclusively for Doctors-on-Tour.