CME & EcoTour of Brazil (March 10 - 23, 2013)
The Pantanal, Rio, Salvador & Iguazu
Group Medical Director - Dr. Rachel Kassner (Charlottetown)
Optional extension to Paraty (Top 20 places to vist per Conde Neste)


Itinerary Overview
Tour Highlights
CME Program
Pricing
Inclusions/Exclusions
Downloadable Brochures and Attachments
Tour Flyer

Detailed Tour Brochure

Registration Form

Useful Articles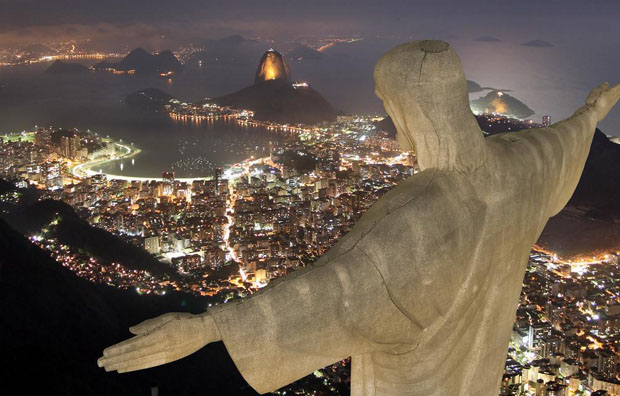 """We had a great visit to the Falls. Stefani was a very helpful guide. The hotel and facilities were fabulous. The tour overall was an exciting experience. Thanks to you both and Ian for the hard work and planning."
Drs. Hirsch and Indra Rastogi, Ancaster – Brazil, 2011
Olá bonito Brasil...!
Brazil, the fifth-largest and fifth most populous country in the world, is an amazing country by any measure. Dazzling beaches, tropical islands, picturesque colonial towns, verdant rainforests and vast pristine wetlands - Brazil's landscape is as diverse as the people who inhabit it. From Rio de Janeiro, a beautiful and pulsating city embedded between mountains and the Atlantic Ocean, to the Pantanal, the world's largest freshwater wetland and home to the greatest concentration of wildlife on the continent, from the beautiful colonial cities of Salvador, to the spectacular Iguazu Falls, Brazil offers visitors a unique experience. A country revered for its football prowess and rich musical traditions, Brazilians exhibit a pure love of life and an enduring spirit which will captivate you. And maybe extend your trip to the colonial resort of Paraty – recently featured as one of the Top 20 worldwide destinations to visit by Conde Neste Traveler.
Tour Highlights...
Immerse yourself in African Bahia culture, (and cuisine!) in Salvador

Discover a plethora of wildlife as you horseride, canoe and hike in the Pantanal

Marvel at the views as you take a cable car up Sugarloaf Mountain in Rio

Witness the power of the spectacular Iguazu Falls
CME Program - Group Medical Director: Dr. Rachel Kassner, Charlottetown
(15+ CME hours & Certificate of Attendance provided)
Academic Conference (Salvador) -

Local and Canadian speakers on a variety of topics including Traditional Medicine

Family Health Program facility (Barao de Melgaco, Pantanal)

Hospital visits (Rio de Janeiro)

Visits to Charitable Works Foundation of Sister Dulce (Salvador)
Pricing, Inclusions & Exclusions...
$6,295 / per person (double occupancy) **
Transportation/hotel taxes & fees $485 / person
Academic program reg. fee $400 / registrant
Single supplement - add $1,300
Price includes:
Modern, air conditioned coach transportation

Round trip international flights from Toronto to Brazil. Internal flights in Brazil as per detailed itinerary

Academic program and visits to local medical facilities as indicated in the itinerary

Expert naturalist guides in the Pantanal

Comprehensive daily itineraries including escorted tours of local cultural sites and museums, all ecolodge activities lecture services, Pantanal ecolodge activities, escorted tours of local cultural sites and museums

Accommodation for a total of 11 nights in first class properties and fascinating ecolodges

11 breakfasts, 6 lunches, 5 dinners in a combination of hotel and local restaurants
Price excludes:
Visa fees for Brazil (visas should be obtained in advance of arrival - estrimated cost $82)

Travel insurance – please note, travel insurance (including medical and trip cancellation / interruption coverage) is highly recommended for this tour. Coverage is available through doctors-on-tour – please check for further details in our brochure
Doctors-on-Tour. Copyright ®2012. All rights reserved. The programs & itineraries as stated in this website are unique & prepared exclusively for Doctors-on-Tour.