CME, Cruise & Scenic
Tour of Iceland
May 6 - 18, 2021
Group Medical Director:
Dr. Rachel Kassner,
Charlottetown, P.E.I.
ES !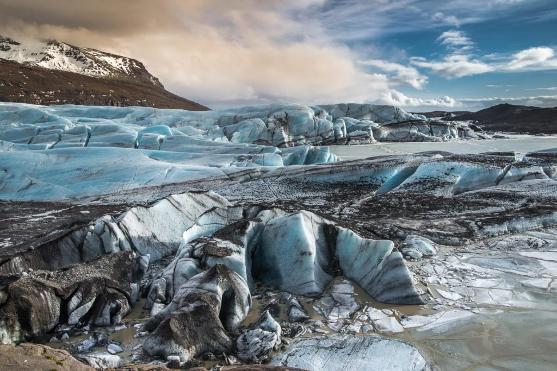 "This was an excellent unique tour combining both the cruise and a varied land component with spectacular sights ! Great group and wonderful local tour escort and cruise staff !"
Dr. Evelyn Brett, Toronto, On. – Iceland circumnavigation cruise and land, 2019
"This was a really good travelling group. Thank you (Rachel and Joel) for your leadership and for your consideration during this trip. It was greatly appreciated"
Dr. Pat Barry, Burlington, On. – China 2017
(for more from our customers click here)
Iceland - The Land of Fire and Ice...
Widely known as "The Land of Fire and Ice", Iceland is one of the most fascinating places on planet Earth. The awe-inspiring landscapes, the pristine forces of nature, the infinite and always-surprising combinations of fire, water, earth and air are everywhere to be found.
Nature lovers are mesmerized by Iceland's spell. There are just not many places on our planet where you can admire black-sand beaches, erupting volcanoes, lumbering glaciers and thunderous waterfalls while at the same time swimming in hot springs, betting on when geysers will erupt, and hiking across barren rocky deserts. It's no wonder the country's nature has been the inspiration for countless Icelandic sagas and songs. However, as beautiful as Iceland might be, it's also steeped in history and culture that's well worth exploring. After all, it has a cultured European feel and a number of fantastic traditions. From the well storied history of Viking voyages to the interesting nature of the Icelandic literary tradition, there is so much to see, do, explore and learn. Iceland is packed with museums dedicated to the country's history and heritage. From Viking log houses to the National Museum of Iceland, there really is something that everyone will enjoy – all while you learn about the country's rich history.
Our unique tour will feature two distinct components…
First, spend 4 incredible days on land in and around the charming, colorful capital of Reykjavik where you will see some of the spectacular inland sites of the Southern area of Iceland not covered in the cruise itinerary. Explore the UNESCO Thingvellir National Park; walk on the Solheimajökull glacier; marvel at the stunning waterfalls of Gulfoss, Skogafoss and Seljalandsfoss; be in the awe of the power of the geyser fields including Strokkur' the world's most active geysirm; walk on the black volcanic beach at Reynisfjara and tour the Reykjanes Peninsular, learn about the history of the island's volcanic activity at the LavaCenter at Hvolsvöllur and bathe in the thermal healing properties of the world famous Blue Lagoon.
Then, experience an unforgettable 8 day circumnavigation cruise around Iceland onboard the Ocean Diamond to view the diversity of natural wonders that is Iceland. With only 113 cabins, this is small ship cruising at its best as you explore the island in authentic Icelandic style. Stop at the Snaefellsnes Peninsula and the Snaefellsjokull Glacier, made famous by the stories of Jules Verne, on the West coast and the isolated Westfjords. Explore the remote North coast including idyllic abandoned fishing villages and still-thriving small towns and watch for whales, dolphins and sea birds in Skjalfandi Bay. Be jolted back to civilization in Akureyri, Iceland's lovable second largest city, the centre of the schizophrenic landscapes of the Lake Myvatn region. Head south through the Eastfjords, where you may spot seals while kayaking, or wild reindeer while hiking. Then on to the fishing village of Djupivogur close to the Vatnajökull Glacier and spectacular Jökulsarlon Glacier Lagoon. Complete your circumnavigation as you explore the volcanic Westman Islands, including the island of Heimaey known as the "Pompei of the North" since the famous eruption of its neighbouring volcano in 1973, on your way along the South shore before returning back to the island's capital, Reykjavik.
This is a tour, and a land, that you will never forget…
Tour Highlights
Circumnavigate the island on an unforgettable cruise and see all that its spectacular scenery has to hold
Walk on one of Iceland's many ancient glaciers
Watch the graceful ocean giants of Skjalfandi Bay - home to 15 different whale species
Explore the town of Heimaey known as the "Pompei of the North" since the famous eruption of its neighbouring volcano in 1973
Visit the Westman Islands, home to the largest Atlantic puffin colony in the world
Play golf in a sunken volcanic crater
Stand behind the thunderous waters of the Seljalandsfoss waterfall
Luxuriate and heal in the hot thermal waters of the Blue Lagoon
Learn about the history of the island's volcanic activity at the LavaCenter at Hvolsvöllur
Marvel at the world's most active geyserm, Strokkur, in the Geysir thermal area (after which all other worldwide geysirs are named…)
Drink, eat and be merry with the locals in the charming, colorful capital of Reykjavik
CME Program : Group Medical Director:
Dr. Rachel Kassner (Charlottetown, P.E.I.)
(15 CME hours and Certificate of Attendance provided)
Physicians - Academic medical conference on the Ocean Diamond featuring local and Canadian speakers & interactive discussions on current medical issues. This will include a presentation on Polar medicine from one of the ship's expedition team.
A visit to the ship's hospital on the cruise to review its on-board facilities
Presentation by the ship's doctor regarding common passenger ailments at sea and international regulations/guidelines as they pertain to cruise ships per WHO (World Health Organization)
Visit to Blue Lagoon clinic (Reykjavik) which specializes in the treatment of psoriasis and excema
Visit to deCODE Genetics (Reykjavik), a global leader in analyzing and understanding the human genome, for a presentation on their work and tour of the facility.
Meet with local doctors to learn about the Icelandic medical system
Pricing, Inclusions & Exclusions
Cdn$7,995** / person (double occupancy)
Academic program reg. fee $800 / registrant
Transportation/hotel taxes & fees $715 / person
Single supplement - Pricing available upon request
Please note : All our pricing is in CANADIAN $ (competing cruise programs are usually quoted in US$, and are also usually land only prices excluding air fare, resulting in a supplement of around 35% when converted into Cdn$ (based on Cdn$:US$ exchange rates at October 2020)
** Pricing already reflects the early booking savings of $1,000/person (after Jan 31, 2021, add $1,000/person)
Price includes:
International flights from Toronto to Reykjavík on Icelandair
8 day / 7 night Iceland circumnavigation cruise on the Ocean Diamond (flights also available from Vancouver - supplement applies)
5 day land tour of Southern Iceland and the Golden Circle (4* hotel in Reykjavík)
Fully escorted tour including services of local English speaking cultural, and naturalist experts and
expedition leaders on Ocean Diamond
12 breakfasts, 10 lunches, 7 dinners
Private, modern, air conditioned coach transportation
All meet and greet services and arrival and departure transfers
Academic program and visits to local medical facilities as indicated in the itinerary
All admission fees (except those specifically noted above)
Hosting by our Group Leader and Medical Director, Dr. Rachel Kassner and her husband, Joel Palter
Porterage at hotels
Price excludes: Beverages unless specifically mentioned above Airport departure taxes (none as of October 2020) All items of a personal nature such as telephone / internet usage, laundry services etc Gratuities for guide Travel insurance – please note, travel insurance (including medical and trip cancellation / interruption coverage) is highly recommended for this tour. Coverage is available through Doctors-on-Tour
Useful Links and Files (Click below to download)
Iceland CME - May 2021 - Flyer
Iceland CME - May 2021 - Detailed Brochure
REGISTER NOW! To register for this program please complete our online registration form at the secure page below -
Iceland CME - May 2021 - Online Registration Form
Although we suggest using our online registration form above, if you wish to complete our pdf form instead, please download, print and complete the registration form below from the link below. This form should then be returned by mail, fax or e-mail (scan) to the contact co-ordinates on the form.
Iceland CME - May 2021 - PDF Registration Form
Also watch the following short video links on this spectacular destination -
Unique Iceland - courtesy of Icelandair and the Iceland Tourist Board
Reykjavik - Iceland's charming capital
Eyjafjallajökull volcano - the 2010 volcano that closed down Europe's air space
Our recommended Manulife Travel Insurance can be purchased as part of your registration above. However, for Canadian clients residing outside of Ontario, you should click on the Manulife Insurance button below to purchase travel insurance.

COVID-19 : TRAVEL WITH CONFIDENCE
Click here to read about our new -
COVID-19 health & safety land program protocols
Flexible booking policy

with lifetime transferable deposits **
Click here for specific health & safety protocols regarding the Ocean Diamond cruise component of this program
** Applies to all tours departing up to December 31, 2021 (no black-out periods!) that have been booked and deposited by December 31, 2020.
Doctors-on-Tour. Copyright ®2021. All rights reserved. The programs & itineraries as stated in this website are unique & prepared exclusively for Doctors-on-Tour.