CME & Cultural Tour of
Southern India
Optional 5 dayextension to the Golden Triangle (Delhi, Agra & Jaipur)
November 25 - December 10, 2017
PRE-REGISTER NOW TO GUARANTEE YOUR PLACE !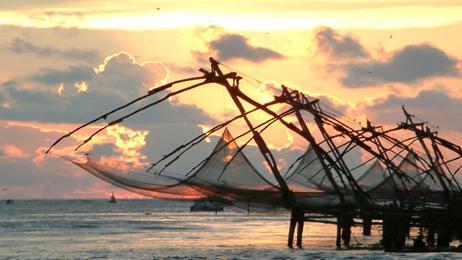 "The whole trip was wonderful and very well organized. We appreciated the advance preparation information packages. The hotel accommodation was excellent and the guides provided a lot of background information in Indian culture and society which made the trip even more valuable as a learning experience. We enjoyed all of it – including meeting Dr. Peter, & Mary, Bloch (Group Medical Director) and the great people in the group!"
-- Dr. Ron Eliosoff, Ottawa - South India, 2013

(for more from our customers click here!)
Full details of our Southern India Fall 2017 program are expected to be launched in early / mid June 2017.

As this is a very popular program, to secure your place we would suggest taking advantage of our Advance Registration procedure. No financial commitment is required to pre-register, and as soon as the complete information package is available we will forward it to you, at which point you will have 7 days to submit full registration details together with your deposit. Click the link below to go to our online pre-registration form.
We started this pre-registration process for all of our programs last year. recognizing that many of our clients wished to block off travel time in advance of our full program information being available. It has been a huge success, with many of our programs already being 70-80% subscribed by pre-registrants by the time the program is actually launched to non pre-registrants.
Alternatively, you may e-mail us or join our CME Newsletter if you would like to be informed as soon as full program and registration information is available.
You may also view the full details of our past 2013 CME Tour of Southern India program as the Fall2017 program will be very similar in content.
Thank you for your interest in our programs!
Let us take you away...
A special gift to the world, India engages, stimulates, excites, soothes and fascinates. Our program shows you the essence of the South and introduces you to it's culture, history and ancient traditions plus it's beautiful serene landscapes, distinctive cuisine and dance art forms together with a gentle people you will never forget. Start in Chennai(formerly Madras), the site of the first settlement of the East India Company, explore the ancient rock shore temples of Mahabalipuram and the stunning Meenakshi temple in Madurai before heading into the hill stations and tea estates of Munnar and the Western Ghats. Cruise in the Lake Periyar wildlife sanctuary, and relax in the Kerala backwaters both on a houseboat and at an ayurvedic retreat before ending at the historic capital and trading port of Kerala, Cochin with it's Portuguese, Chinese, Dutch and British influences. Optional extension to the Golden Triangle also available.
Doctors-on-Tour. Copyright ®2017. All rights reserved. The programs & itineraries as stated in this website are unique & prepared exclusively for Doctors-on-Tour.