CME, Cultural & Ecological Tour of
Malaysia / Borneo & Singapore
October 11 - 26, 2023
Group Medical Director:
Dr. Lorna D'Silva, Mississauga, On.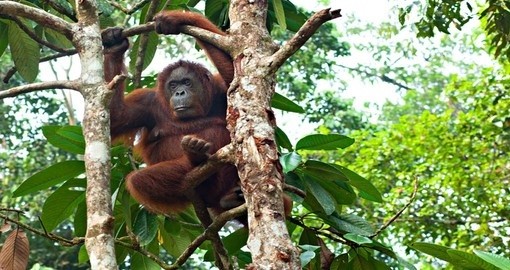 "I totally loved Singapore and Malaysia. The local escorts were honestly a ten star. There was nothing they would not do for us".
Dyana Driscoll, Toronto, On. – Malaysia & Singapore, 2018
"We are having a fantastic time.
Great group - have made many new friends.
We are ecstatic to be here.
(our local tour escort) Malik is a kind and patient person who gives 110% of himself - he truly goes above and beyond to make sure everyone is happy.
Thank you. Thank you Thank you."
Drs. Loraine Manzig and Kevin Sliwowicz, Toronto, On. - Malaysia & Singapore, 2022

(for more from our customers click here!)
Full details of our Malaysia Fall 2023 program will be released shortly .

This new program has had significant pre-launch interest and, once full details and pricing are available, we are expecting it to sell out quickly. therefore, to secure your place, we would suggest taking advantage of our Advance Registration procedure. No financial commitment is required to pre-register, and as soon as the complete information package is available we will forward it to you, at which point you will have 7 days to submit full registration details together with your deposit. Click the link below to go to our online pre-registration form.
We started this pre-registration process for all of our programs last year. recognizing that many of our clients wished to block off travel time in advance of our full program information being available. It has been a huge success, and this particular program is generally fully subscribed by pre-registrants by the program launch date .
Alternatively, you may e-mail us or join our CME Newsletter if you would like to be informed as soon as full program and registration information is available.
You may also view the full details of one of our previous Malaysia and Singapore tours as the October 2023 program will be very similar in content.
Thank you for your interest in our programs!
Bursting with unique experiences...
...Malaysia is a country of vast contrasts and incredible diversity, a bustling melting pot of races and religions that is home to cosmopolitan cities with towering skyscrapers, postcard perfect tropical island beaches, ancient jungle ecosystems and Southeast Asia's highest peak.
Our tour will feature two distinct components. Start in the Malaysian Peninsular in the UNESCO World Heritage Site of Malacca, Malaysia's most historic city and a centuries old trading port of the East. Head to Kuala Lumpur and see the city's main attractions including the Petronas Towers and the Holy Batu Cave nearby, and then continue north to the island of Penang with its white sandy beaches and the colonial state capital of Georgetown featuring its 19th century churches, temples, mosques, and Fort Cornwallis, the largest fort in Malaysia.
Continue your adventure with a short flight to the island of Borneo, home to one of the oldest rainforests in the world, featuring a diverse array of animal and plant species, including the endangered Bornean Orangutan. Here in Sabah (the Malaysian section of Borneo) you will experience eco-culture at its best as we explore Kota Kinabalu (the gateway to the Mount Kinabalu N.Park) before heading to the Kinabatangan River where you will stay at a rainforest lodge to experience the abundant wildlife including orangutans, Bornean gibbons and the large-nosed proboscis monkey and the endemic pygmy elephants. Continue to Sepilok where you will stay in another nature lodge and witness more wildlife including the island's famous primates at the Sepilok Orangutan Rehabilitation Centre and another endangered species at the Sun Bear Conservation Centre.
Finally, finish off this incredible adventure with 3 days in Singapore – the thriving country squeezed into the end of the Malaysian Peninsular with its unique multi-cultural Asian society, all blended in with a distinct British colonial heritage. Enjoy great food, vibrant nightlife, arts and cultural events to end your trip with a flourish!
Doctors-on-Tour. Copyright ®2023. All rights reserved. The programs & itineraries as stated in this website are unique & prepared exclusively for Doctors-on-Tour.