CME, Cultural, Ecological & Wine
Tour of Chile & Argentina
March 20 - April 4, 2015
Group Medical Director:
Dr. John Cocker (Stouffville, On.)
Optional Extension: Spend 3 days exploring the spectacular Atacama Desert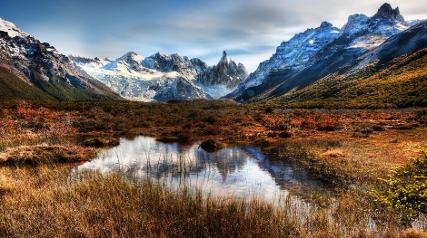 "A great idea to be able to combine the two countries in one visit as it allows one to compare and contrast. The choice to meet with local physicians in both private and public hospitals provided an opportunity to experience health care outside of Canada"
Dr. Edo Teku, Toronto - Chile & Argentina, 2012
For more from our customers click here!)

Let us take you on a journey of great contrast and beauty...
...across the neighbouring vistas of Chile and Argentina. Begin with your immersion into the adventure and raw natural beauty that Argentina has to offer; boasting the Western hemisphere's highest peaks at over 7,000m, the painted deserts of the northern Andes with their colonial cities, and the splendid desolation of Patagonia. Stroll the spicy streets of Argentina's fashionable and energetic capital, Buenos Aires, lined with bustling parillas (grill restaurants) and colourful curios, while the chimes of skilled musicians flow from street corners and nightspots alike. Experience the local people and their culture - Argentines have a vivacious and infectious lust for life, which has survived despite a dark period of military dictatorship and several economic crises and their passion shines through in Argentina's three greatest loves: football, food and fine wine. Fly to the southernmost city on the continent, Ushuaia and, from here, embark on the M/V Stella Australis for an unforgettable expedition cruise to take you around the tip of South America through the Straits of Magellan and past Cape Horn to Punta Arenas in Chilean Patagonia.
Nestled between the Andes Mountains and the Pacific Ocean, Chile is home to spectacular scenery, fine wines and warm hospitality. There are few destinations on the planet that offer such a contrast - from the spectacular national parks of Patagonia in the south, through the central wine valleys to the desert lands of the North. After your cruise, head north to Puerto Natales and the magnificent Torres del Paines National Park (considered by many to be one of nature's finest creations), showcasing the lakes and islands, forests and fjords and mountains and glaciers of this spectacular region. Then fly north to the central valleys, and cosmopolitan Santiago, the capital, which hosts an attractive mix of historic buildings and modern amenities, where you will see the cultural highlights and be introduced to several of the excellent wines of this area at some of the finest Chilean vineyards with time for relaxing, or exploring, in your base of the fashionable Pacific coastal resort of Vina del Mar.
And why not complete your trip with an optional (3 day) extension to the spectacular lunar landscapes of the Atacama desert in Northern Chile…
Tour Highlights
Learn how to tango in Buenos Aries

Journey to the end of the southern world by train in Ushuaia

Cruise past Cape Horn and through Tierra del Fuego

Marvel at the spectacular peaks of Torres del Paine, South America's premier National Park

Explore the birthplace of Pablo Neruda – the Chilean Nobel Prize winner

Sample sumptuous wines in Chilean vineyards

Experience the breathtaking starscape above the Atacama Desert

CME Program / Group Medical Director:

Dr. John Cocker, Stouffville, ON
(15+ CME hours on local and global health and healing practices and Certificate of Attendance provided)
Hospital visits in Ushuaia and Vina del Mar to learn about local medical practices

Academic Conference on M/V Stella Australis with local and Canadian speakers

Educational lectures on the M/V Stella Australis on aboriginal medicine

Copper Hospital (Atacama) - specialist in high altitude & mining diseases; presentation by local shaman on traditional healing practices (re Atacama Desert extension)
Pricing, Inclusions & Exclusions
Price includes:
International flights from Toronto to Buenos Aries / Santiago to Toronto on Air Canada and all internal flights in Argentina &

Chile (Connecting flights available from other Canadian cities)

Private, modern, air conditioned coach transportation

All meet and greet services and arrival and departure transfers

Accommodation for a total of 13 nights (10 nights in 4* properties and 3 nights on Stella Australis)

12 breakfasts, 7 lunches, 6 dinners in a combination of hotel and local restaurants

Drinks included on Stella Australis(both soft drinks and alcoholic beverages)

Comprehensive daily itineraries including escorted tours of local cultural sites

Visits to local wineries highlighting the different grapes of the regions, including wine tasting

Academic program and visits to local medical facilities as indicated in the itinerary

Services of local English speaking cultural experts and guides including expert naturalist guides on Stella Australis
Price excludes:
Beverages (both soft drinks and alcoholic beverages, unles specifically mentioned in Inclusions)

Gratuities

Airport departure taxes

Reciprocity entry fees for each of Chile & Argentina

Travel insurance

All items of a personal nature such as telephone / internet usage, laundry services etc
Useful Links and Files (click below to download!)
Chile & Argentina CME - Mar 2015 - Detailed Brochure
REGISTER NOW! To register for this program please download, print and complete the registration form below. Please mail, fax or scan the form (by e-mail) to the address on the form.
If you have any difficulties in printing the registration form, please e-mail us at mailto:info@doctorsontour.ca and we will send you a form in different format
Our recommended RBC Travel Insurance is available when completing the registration form above. However, for Canadian clients residing outside of Ontario, you should click on the RBC Insurance button below to take out travel insurance.
Doctors-on-Tour. Copyright ®2014. All rights reserved. The programs & itineraries as stated in this website are unique & prepared exclusively for Doctors-on-Tour.