CME & Ecological Tour of Ecuador:
Amazon, Galapagos Islands & Quito
Optional extension to Peru (Lima, Cuzco, Macchu Picchu)
September 16 - 29, 2017
Group Medical Director:
Dr. Lorna D'Silva, Mississauga, ON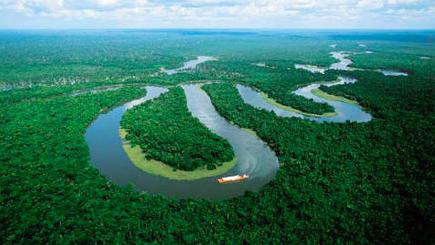 "What an amazing trip this was ! You did such a fantastic job – well organized with wonderful support staff – everything left on time, great food, weather & traveling companions – and our guide Gonzalo was the best ! Thank you very much for such an unforgettable adventure."
Jack & Lore Brown, London, On. - Ecuador & the Galapagos, 2012
"Thank you for your excellent guidance during our trip to Ecuador. The trip was very good, and the logistics and handling of the group were excellent"
Dr. David Spence, London, On. - Ecuador & the Galapagos, 2015
Ecuador -- So much more than the Galapagos...
One of our most popular tours - Andean culture, Amazon rainforest, volcanic countryside, colonial cities, the Galapagos Islands – this is Ecuador, home to arguably the most spectacular array of natural and cultural diversity anywhere. This fascinating tour takes you into the Galapagos Islands – one of the most undisturbed and incredible eco systems on earth with it's incredibly unique species and the home of Darwin's theory of evolution. Then, head into the heart of the Amazon rainforest with it's multitude of plants, birds and animals. Hike, canoe or simply sit on your private cabana's terrace and see the greatest bio-diversity in the planet as well as learning about the indigenous Achuar Indians. And explore Quito, with it's UNESCO colonial centre and countless museums as well as a visit into the spectacular Andean foothills and a stay in a local hacienda in Otavalo, the continent's most famous trading fair. And afterwards, the opportunity to extend your trip into Peru including Cuzco & Macchu Picchu and the fascinating Inca culture.
Featuring the M/N Santa Cruz II and Sacha Lodge as described in our various articles in the Medical Post and Doctors Review. To read more please see our 'Featuring Doctors-on-Tour' section!
Tour Highlights
Explore the country's cosmopolitan capital, Quito, and it's beautifully preserved colonial center - the first UNESCO designated city in the world

Stay in centuries-old Andean haciendas boasting rich Spanish colonial history in the foothills of the Andes - these estate accommodations are unique to Ecuador

Embark on a five-day cruise of the Galapagos Islands with expert naturalist guides - swim with the sealions and see blue-footed boobies, iguanas, unique bird life and so much more!

Admire the giant tortoises at the Cerro Colorado Research Center and learn about conservation projects

Experience the Ecuadorian Amazon rainforest - a vast region of biodiversity and one of the most pristine areas of the Amazon Basin
CME Program
(15+ CME hours and Certificate of Attendance provided)
Academic Conference on board M/N Santa Cruz IIwith lectures by Canadian & Ecuadorian medical experts & interactive discussions
Visit to the M/N Santa Cruz II's ship's hospital and meeting with the ship's doctor to review on-board medical equipment and learn about common medical ailments at sea.
Medical tour of Otavalo Provincial Hospital, Otavalo to meet with local doctors and learn about the Ecuadorian medical system
Presentations on traditional healing methods by a shaman in one of the local Amazonian communities close to Sacha Lodge.
Learn about herbal medicine through a "hands-on" rainforest walk (Quichua native) in the Amazon and a presentation on the Useful Plants of Sacha Lodge (from the 2005 professional study by Barry Thomson) *
Pricing, Inclusions & Exclusions
Price includes:
Round trip international flights from Toronto to Quito, Ecuador. Internal flights in Ecuador as per detailed itinerary.
Modern, air conditioned coach transportation
5 day / 4 night Galapagos cruise on the MN Santa Cruz II
4 days / 3 nights at Ecuadorian Amazon Sacha Ecolodge,
5 nights at Hilton Colon (Quito),
3 nights at a Hacienda in the Ecuador highlands
13 breakfasts, 10 lunches, 10 dinners
Comprehensive daily itineraries including, island sightseeing, naturalists and lecture services, Amazon ecolodge activities, escorted tours of local cultural sites and museums
Academic program and tour of local medical facilities in Quito
All admission fees (except those specifically noted above)
Fully escorted tour including services of local English speaking cultural, ecological and naturalist experts
Porterage
Price excludes:
Beverages (both soft drinks and alcoholic beverages)
Gratuities
Galapagos Transit Control Card (Ingala card) (US$20/person)
Galapagos Park Fee (US$100/person)
Travel insurance – please note, travel insurance (including medical and trip interruption coverage) is highly recommended for this tour. Coverage is available through doctors-on-tour – please check for further details in our brochure.
All items of a personal nature such as telephone / internet usage, laundry services etc

Doctors-on-Tour. Copyright ®2017. All rights reserved. The programs & itineraries as stated in this website are unique & prepared exclusively for Doctors-on-Tour.