CME & Cultural Immersion Tour of Bali
(June 15 - July 1, 2013)
Group Medical Director - Dr. Mel Borins (Toronto)
Last few places !!
Registration deadline March 14, 2013
Itinerary Overview
Tour Highlights
CME Program
Pricing
Inclusions/Exclusions
Downloadable Brochures and Attachments
Tour Flyer

Detailed Tour Brochure

Registration Form

Useful Articles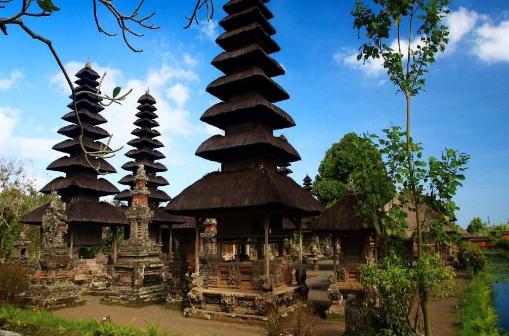 "Excellent! Loved the trip and well worth it. Life changing experience, excellent speakers and very well organized. Met some great people and will keep in touch for future trips. Will definitely book another doctors-on-tour trip in the future."
-- Dr. Janel Gracey, London - Bali, 2012
"We really enjoyed the tour of Bali and we were glad that we could do it with Dr. (Mel & Bonnie) Borins who showed us the real Bali and not the tourist angle. Every moment was an experience of it's own. Thank you so much for organizing such a unique experience"
-- Dr. Nilam Clerk & Shobha Amin, Toronto - Bali, 2012
(for more from our customers click here!)
Introducing BALI...
...the most magical, and mythical, of all the charismatic archipelago of Indonesia. Breathtaking panoramas of cultivated rice terraces, impressive volcanoes and pristine beaches. Some call it the 'island of the gods' - a truly beautiful tropical island inhabited by a remarkably artistic and spiritual people who have created a dynamic society with unique arts and ceremonies.
Our unique 16 day program has been specifically designed in conjunction with the Bali Institute for Global Renewal (BIGR). BIGR has offered medical programs, global conferences, educational programs, cultural immersion/service learning experiences and global leadership training to more than 2000 people of all ages from over 40 countries. More than 200 NGOs, corporations, organizations, media outlets and private groups have been sponsors, supporters and promoters of these programs. Major global leaders, Nobel Prize awardees, social activists, award-winning authors and film makers, CEOs and heads of large non-profits have participated and helped facilitate well over 200 programs and workshops. Visiting dignitaries have included former Indonesian President Gus Dur, Archbishop Desmond Tutu, Nobel Peace Prize honorees Betty Williams and Jody Williams, Afghanistan Red Crescent President Fatima Galani, and the Bhutan Head of Home Affairs. Learn more about BIGR at
Our connection with BIGR enables us to show you far more than just the island's beaches – this is a cultural and spiritual immersion as you meet with traditional Balinese healers, enjoy private meetings with royal families, explore sacred temples and experience colorful festivals and ceremonies. Stay in some of the island's finest resorts and spas and sample mouthwatering cuisine as our island adventure takes you to Ubud, the heart of Bali's arts, dance & music; Pemuteran and Menjangan Island, the spiritual centre; Mengwi with it's wonderful views and plantations; Amed, with it's lofty mountains, curving bays & crystalline waters; and Legian, a laid back beachfront town. Bali has enchanted visitors for centuries – let it cast it's spell over you as we take you on a journey that you will never forget…..
Tour Highlights...
Comprehensive daily itineraries including privately escorted tours of local cultural sites, museums and shows
Special Balinese performances and private session with royal families
Accommodation in traditional first class hotels, resorts and spas
14 breakfasts,12 lunches,12 dinners in a combination of hotel and local restaurants
CME Program (with Group Medical Director ("GMD") Dr. Mel Borins)
15+ hours of CME programming
Presentations on traditional healing practices from local Balinese healers (Bone setters, Balians and Spiritual healers)
Herbal medicine lectures
Medical conference at Udayana University with members of the local faculty
Lecture from Dr. Suryani (the "mother of Bali", founder of Suryani Institute of Mental Health and author of numerous books on spirituality, Balinese culture, education and mental health
There is no person better suited to lead this program than Dr. Mel Borins, a practicing Family Physician on active staff at St. Joseph's Health Centre in Toronto. Mel is an avid world traveler and is an expert on Bali having visited the island on twelve previous occasions to investigate traditional healing approaches, including his hosting of our inaugural Bali program in July 2012. Mel is a regular contributor to medical journals, and is well known for his writing and public speaking on travel, stress management, psychotherapy, acupuncture, traditional healing, herbs and complementary medicine. Dr. Borins is the author of several books, including Go Away Just for the Health of It and "An Apple a Day - a Holistic Health Primer". For additional information about Dr. Borins, check out his website www.melborins.com
Pricing, Inclusions & Exclusions
$6,195 / person (double occupancy)
Transportation/hotel taxes & fees $485
Academic program reg. fee $400 / registrant
Single supplement - add $1350
Price includes:
Round trip international flights from Toronto to Denpasar on Cathay Pacific.

Accommodation for a total of 14 nights in first class properties

14 breakfasts, 12 lunches, 12 dinners in a combination of hotel and local restaurants

Comprehensive daily itineraries including privately escorted tours of local cultural sites, museums and shows

Snorkeling, boat rides and beach time
Special Balinese performances and private session with royal families

CME program including tours of various local medical facilities and separate programs for spouses

Services of local English speaking cultural experts
Price excludes:
Visa fees for Indonesia (US$25)

Local departure tax (approximately US$17)

Travel insurance – please note, travel insurance (including medical and trip cancellation / interruption coverage) is highly recommended for this tour. Coverage is available through doctors-on-tour – please check for further details in our brochure
Useful Links and Files inc.

REGISTRATION FORM
(Click below to download!)
Doctors-on-Tour. Copyright ®2012. All rights reserved. The programs & itineraries as stated in this website are unique & prepared exclusively for Doctors-on-Tour.